The charging station for electric vehicles
The P-CHARGE System is a complete series of charging stations for electric vehicles, catering for the most diverse of requirements both in private and public areas. From the simple charging pillar for electric bicycles, mopeds and electric cars to complete parking area systems for department store chains, communal park houses and parking areas, through to complete charging and billing systems of the future.
The P-CHARGE system can be configured to the individual needs of the customer. Each pillar is equipped with the appropriate socket systems depending on the specification.
P-CHARGE Wallbox Mono –
The safe and fast charging of electric vehicles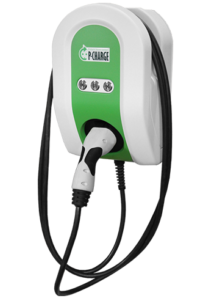 Description:
With EWS-Box to Mode 3 charging in accordance with IEC 61851-1
Remote access via Ethernet possible (Start/Stop charging procedure, system analysis)
Management via external software applications is possible
Cost-effective use of existing home electrical installation
Dimensions in mm>: approx. 403 / 278 / 171 (excl. charging cable and plug)
Weight: ca. 6,4 kg ø
Features:

1 Charging point Mode 3
Input voltage 400 VAC/50 Hz
Voltage output 3.7-22 kW
Fixed connection cable with plug type 1/20A
Cable- and fault current protection in upstream house installation
Potential-free switching output
EWS-Box (mode 3)
2 RGB-LED-buttons
HTML-page for visualisation and configuration
Pay-Charge – charging station with billing system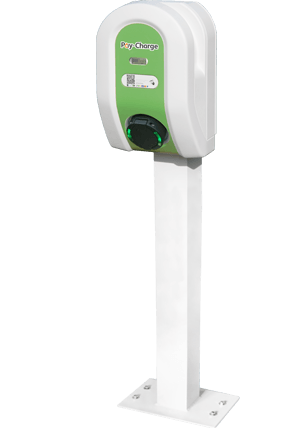 Application:
With Pay-Charge, we have launched a charging station for public and commercial applications: stepless charging from 3.7 kW to 22 kW *. All modern electric vehicles can be charged with a charging control according to IEC 6185122. The charge controller is state of the art. The entire control technology is housed in a weatherproof and robust housing. A stand made of galvanized steel with plastic coating ensures firm stability. Pay-Charge is also very suitable as a wall-box solution for wall mounting, z. B. in parking garages.
Domestic equipments:

Monitor internal hardware such as meter, user interface module or power outlet
Approved MID counter
RFID reader
Possibility to use an app to scan a QR code at the charging point, so that the charge or activation and the payment can be made
OCPP communication protocol; OCPP 1.5 and OCPP 1.6 compliant
Smart-grid-enabled
Peer group mechanism to distribute a set current within a group of charge controllers "load management"
Integrated 4G modem; supports 2.5G Edge and 3G UMTS mobile networks
2 USB interfaces; one to configure the charge controller or for software updates; a second to connect USB peripherals
Error handling to ensure a safe and successful loading process (including payment)
Integrated temperature and current sensors
Outside the charging box, only one Type A RCCB is required
Dimensions (H x W x D): approx. 403 x 278 x 171 mm
Weight: about 7 kg
* The actual charging power depends on the respective electric vehicle and the power supplied by the network operator.
A more detailed description can be found in our product sheet